About 65% of Africa's farmland is degraded, worn down by unsustainable farming and grazing practices. Forests, grasslands, and other lush landscapes are also facing rapid damage, leading to water insecurity and growing deserts. Without urgent action, the soil will yield less and less food, posing a serious problem for the 60% of people across Africa who rely on the land to feed their families.
Fortunately, there are thousands of community-led organizations that are restoring land across the continent, making the soil more productive while helping to galvanize local economies, boost biodiversity, adapt to the impacts of climate change, and reduce greenhouse gas emissions. These "Restoration Champions" engage thousands of smallholder farmers to revitalize their land, but they lack the capacity and investment needed to scale up their work.
Restore Local, part of The Audacious Project's 2023 cohort, provides Restoration Champions across the continent with the support they need. Building on the African Forest Landscape Restoration Initiative (AFR100), founded in 2015, the four-year project will work to restore Africa's vital landscapes by investing in locally led restoration at scale.
The Restore Local blueprint has four major parts:
1. Develop Capacity
Restoration Champions struggle to access technical assistance and training to bolster their existing knowledge on community mobilization, agriculture, forestry and business. To ensure they are ready to receive funding and deliver impact, Restore Local provides targeted training and builds the capacity of Restoration Champions through programs such as the Land Accelerator.
2. Deploy Finance
Three out of four restoration enterprises struggle to access finance from national or local financial institutions, due to high interest rates or repayment timelines that are out of sync with what they need. Through TerraFund for AFR100 and blended finance mechanisms, Restore Local directly funds champions who restore vitality to the land.
3. Secure Policy
When designed the right way, local and national policies can incentivize and reward Restoration Champions for their work. Restore Local supports national and sub-national government institutions in creating national plans as they commit to restoration. It connects policymakers with each other and with technical experts through programs such as the Landscape Policy Accelerator and the Landscape Monitoring Accelerator.
4. Monitor, Report, Verify and Learn
To prove their impact, Restoration Champions need to track the progress of their work. But existing tools are not designed with their needs in mind. Through a standard framework that combines cutting-edge geospatial data with on-the ground verification, Restore Local enables Restoration Champions to understand the impact of their work and share it with their community, peers and investors. This data is housed on the TerraMatch platform.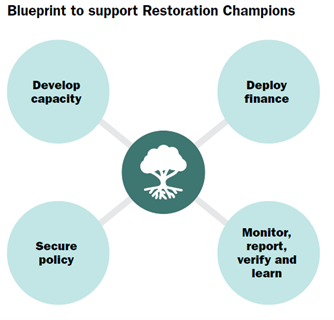 Target Landscapes
Restore Local will collaborate with key stakeholders and focus on delivering this blueprint in three anchor landscapes:
The Lake Kivu & Rusizi River Basin in Burundi, the Democratic Republic of the Congo (DRC) and Rwanda, expanding to the Albertine Rift.
The Greater Rift Valley of Kenya, expanding across the East African Rift Valley.
The Cocoa Belt of Ghana, expanding across the West African Guinean Forests.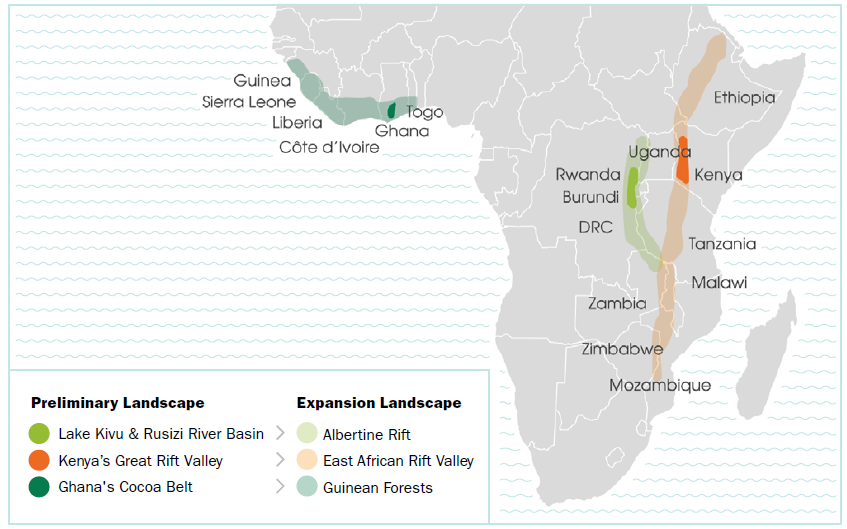 Restore Local will then prepare the infrastructure necessary to scale up this work through the AFR100 National Registry, a customizable system that catalogs the technical assistance and financial needs of champions. A central tracking dashboard will allow investors, government officials, and technical experts to understand the breadth and depth of Africa's restoration movement.
Working together with partners and catalyzed by funding through The Audacious Project, the program will ultimately expand across AFR100 landscapes, aligning with the initiative's vision to restore 100 million hectares of land by 2030.
Cover image by Seraphin Nayituriki and ARCOS