By Diana Mawoko and Gilbert Muvunankiko
Nigeria, a nation steeped in vibrant culture and rich biodiversity, has emerged as a shining beacon of commitment to a more sustainable future. Like the rhythm of its traditional drums, Nigeria's efforts resonate across the continent's landscape, with 4 million hectares committed to the African Forest and Landscape Restoration Initiative (AFR100). Under the aegis of the African Union Development Agency-NEPAD, the country's capital of Lagos was center stage for the seventh AFR100 Annual Partnership Meeting (APM7), which took place from June 27-30, 2023. APM7 brought together political partners, participating African countries, and technical and financial partners for a forum on how to accelerate restoration finance for smallholder farmers. The meeting also assessed the progress of AFR100 and came up with a new plan to advance large-scale landscape restoration. 
AFR100 is a country-led effort aiming to bring 100 million hectares of degraded and deforested landscapes into restoration by 2030. Currently, 34 countries have joined the movement and have committed to bringing 129.5 million hectares under restoration by 2030. This commitment is being made possible through member countries leadership, technical and financial partners, and most importantly, by the efforts of local restoration champions leading implementation on the ground. AFR100 partners have devised innovative solutions to provide technical and financial support to these champions, but there is still a long journey to achieve these ambitious targets. That is why AFR100 partners meet every year to assess their progress, address challenges and craft strategic solutions to accelerate restoration across Africa's degraded landscapes. 
This year's APM theme was "Attracting Investments to Expand Access to Financing for Smallholder Farmers: From Africa and Beyond". Thousands of local restoration champions have proven that it is possible to reverse the trend of degradation and restore the health of the landscape for the benefit of people, nature and climate. It is true that change starts at the local level, and strong partnerships and adequate access to finance for these local restoration champions are the way to go. 
Key Takeaways from the AFR100 APM7 
In this article we will explore the six key takeaways from the last AFR100 APM7.  
1. Strengthened Political Will Among All Stakeholders 
Opening APM7 on behalf of AUDA-NEPAD, Mamadou Diakhite highlighted Africa's high potential for restoration and called for stronger partnerships to seize this moment. "There is a lot of opportunity for restoration in Africa as a result of the high level of land degradation. With the AFR100 country members and partners as well as local restoration champions, a lot has been done so far. However, Africa needs more interventions, and therefore we welcome more partnership with AFR100 to restore landscapes in the continent at scale."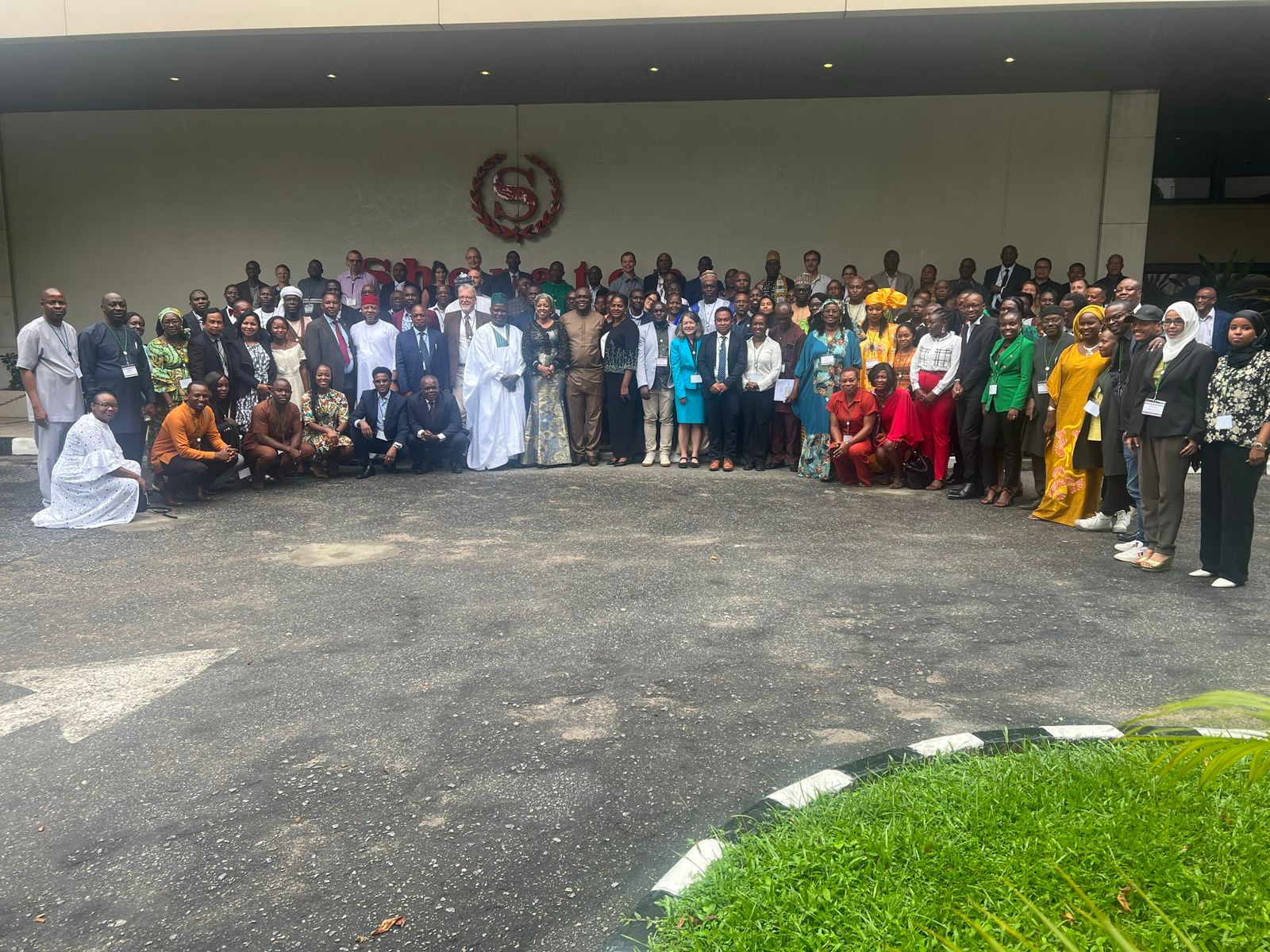 The AFR100 APM7 coincided with the Eid al-Adha celebration. In his opening remarks on behalf of Mohammed Hassan Abdullahi, the Minister of Nigeria Federal Ministry of Environment, Etim Williams said: "This is a great testimony that God has sealed the AFR100 initiative and what we are doing here now! The implementation of AFR100's commitments will help put an end to hunger and transform Africa into the global powerhouse of the future. Improving smallholder farmers' access to finance is key to effective implementation on the ground." He then thanked everyone present and wished participants a happy Eid. 
In his opening remarks on behalf of the German Federal Ministry of Economic Cooperation and Development (BMZ), Joerg Lohmann reminded participants of the history of AFR100 when the BMZ, AUDA-NEPAD and World Resources Institute (WRI) launched the initiative in 2015 with 21 countries at the COP 21 in Paris. Lohmann expressed his appreciation on how AFR100 is contributing to the UN Decade on Ecosystem Restoration, sharing, "I remember in 2015 when AUDA-NEPAD, BMZ and WRI launched AFR100. It is amazing to see the 34 countries who have joined the movement so far and to see the AFR100 partnership making a decisive contribution to turn this UN Decade into a success," he said. 
2. Launch of the New AFR100 Website 
There is a lot of progress being made under the AFR100 initiative. It is time to show the world how the tremendous efforts and leadership of AFR100 country members and restoration champions are driving landscape restoration across Africa.  The initiative's many diverse stakeholders agreed to create a "pitch" to showcase how financing locally led land restoration projects through AFR100 leads to real, on-the-ground impact for people, the climate, and nature.   
The new AFR100 website, launched at APM7, spotlights the leadership of AFR100 member countries and the projects that are delivering implementation on the ground. If you are restoring land in Africa, your project has a chance to be featured there! Explore projects from African restoration champions and submit your own here. 
3. Funding Updates Post-APM6 
AFR100 partners are working together to find sustainable solutions to the technical and financial challenges that African restoration champions are facing. Those include, among others, a commitment from two financial partners of AFR100, SouthBridge Investments and the Arab Bank for Economic Development in Africa (BADEA). At COP27, they announced a partnership with AFR100 to develop a $2 billion fund for restoration in Africa, aiming to blend $500 million of concessional finance with $1.5 billion in private investment. A third financial partner, the Bezos Earth Fund, announced $50 million in philanthropic support. Later on, in April 2023, The Audacious Project announced $100 million in funding to accelerate locally led land restoration in three African landscapes: the Lake Kivu & Rusizi River Basin in Rwanda, Burundi, and the DRC; the Ghana Cocoa Belt; and the Greater Rift Valley of Kenya.   
4. The Restoration Academy 
On the sidelines of APM7, the Restoration Academy gathered over 40 participants, including government officials at both national and subnational levels, NGOs, and development partners, to foster knowledge exchange and peer-learning on landscape restoration. This platform serves as a forum to connect restoration implementers with the global UN Decade on Ecosystem Restoration and regional initiatives like AFR100. It offers capacity-building, knowledge sharing and peer-to-peer exchanges on a variety of topics that are crucial to the success of ecosystem restoration and Forest and Landscape Restoration (FLR) projects. The key outcomes were an increased understanding of how correct communication can complement ecosystem restoration efforts and how future cooperation within and outside the restoration academy would look like. Future Restoration Academies are envisioned in other African countries.   
5. The Road to 2030 AFR100 Commitments 
The 34 AFR100 member countries are developing a road map to facilitate FLR opportunity assessments, implementation and monitoring. This APM7 outcome will allow for relevant policy integration and strategic framework development through the support of the AFR100 network.  
The road map will also allow countries to prioritize their needs in line with the building blocks and highlight their milestones from 2023 to 2030. 
6. New AFR100 Regional Focal Points, 2023-2024 
At APM7, the AFR100 secretariat announced that the previous AFR100 regional focal points would remain the same for 2023 -2024. Those include Nigeria for the Economic Community of West African States (ECOWAS), Cameroon for the Economic Community of Central African States (ECCAS), Tanzania for the East African Community (EAC) and Madagascar for the Southern African Development Community (SADC).  
The AFR100 APM7 proved to be a success, with clear guidance on areas to improve and strengthen in order to accelerate implementation towards the initiative's 2030 target. As reiterated throughout APM7, an effective communication strategy is needed to document successes and centralize knowledge among partners. In addition, the need to mobilize more financial resources and build monitoring capacity at the national level were highlighted as key priorities for the upcoming year.