This article originally appeared on Landscape News here.
By Gabrielle Lipton | Landscape News Editor-in-Chief
"Forest landscape restoration is more than just planting trees," said Mamadou Diakhite, leader of the African Forest Landscape Restoration Initiative (AFR100) Secretariat at the opening of its Fourth Annual Partnership Meeting in Accra, Ghana on 28 October. To underscore this message, he repeated the phrase three times.
"What is it that we've lost?" asked Musonda Mumba, head of U.N. Environment's Terrestrial Ecosystems Programme and the Global Partnership on Forest Landscape Restoration (GPFLR), taking a further step back. "We're restoring to what, exactly?"
On a continent that is expected to account for half the global population growth by 2050, reducing and sequestering greenhouse gas emissions is a welcome byproduct of returning those natural landscapes to health and profitability; but it's not the first focus, said representatives from country governments and organizations leading the ambitious initiative.
Restoring landscapes that have been degraded by the effects of climate change and human development through planting trees and encouraging sustainable farming and herding – known as forest landscape restoration (FLR) – must first and foremost provide food, jobs and homes for people, as well as preserve their cultures that are based in the products of their lands.
In 2015, AFR100 was founded in Durban by a group of 10 African countries, each committing to restore a certain number of hectares of degraded landscapes within their borders. It was designed to feed into the larger targets of preexisting international restoration initiatives such as the Bonn Challenge and New York Declaration on Forests. Now, partners also see it as a main supporting pillar of the overarching U.N. Decade on Ecosystem Restoration (2021–2030), which was launched in March of this year, as well as the U.N. Decade on Family Farming (2018–2028).
Twenty-eight African countries have now committed to restore 113 million hectares, which, if achieved, will exceed the initiative's namesake goal of 100 million hectares across the continent under restoration by 2030. The AFR100 Secretariat at the African Union Development Agency (AUDA-NEPAD) coordinates restoration activities on the continent, with support from the initiative's technical partners, including the Center for International Forestry Research, U.N. Environment, World Resources Institute (WRI), the World Wide Fund for Nature (WWF), IUCN, the Food and Agriculture Organization of the U.N. (FAO), GIZ and others.
But the work required to achieve these commitments still falls largely upon the shoulders of individual countries.
Beyond the forest
As more than 1 in 5 people in Africa are undernourished, as forced migration across country borders increases due to climate change and civil conflict, and as African economies struggle to create jobs for young people, calls for a more expanded definition of FLR were everywhere.
This diversity was exemplified throughout the three days of meetings and an excursion to restoration sites in and around Accra. On farms, trees can be integrated with crops to improve soil health, resilience to climate change and overall yields. Sustainable plantations for commodity crops like cocoa, which is the focus of a new REDD+ project in Ghana, can generate bigger profits for local communities through tapping into global markets. Indigenous plants, such as Prunus africana, which is traditionally consumed as a tea in Kenya, can supply niche markets, such as organic foods stores in major cities where it's marketed as a superfood in powder form.
The continent's biggest ambition might be the Great Green Wall, a visionary initiative to create a natural barrier to stop the expansion of the Sahara Desert into the fertile Sahel region to its south. In 2017, the wall was intended to be built of trees. Now, its architecture has transformed into a quilt of forested farms, healthy grasslands, shrublands, wetlands and forests, too.
Delegates also stressed that restoration cannot be approached on its own. It must first of all come in tandem with shielding ecosystems that are currently in good shape from degrading. "Ecosystems we don't conserve… they'll tip over," said Mumba. "They'll go off the edge and be no longer recoverable."
And, restoration should be integrated in with land degradation neutrality efforts (LDN), which is simultaneously receiving a lot of research and attention from the scientific community, in hopes to have net-zero degradation of landscapes with economic development. A new report from IUCN presented at the meetings shows that in 13 countries, specific FLR and LDN targets are being approached separately rather than together, despite the highly similar end goals.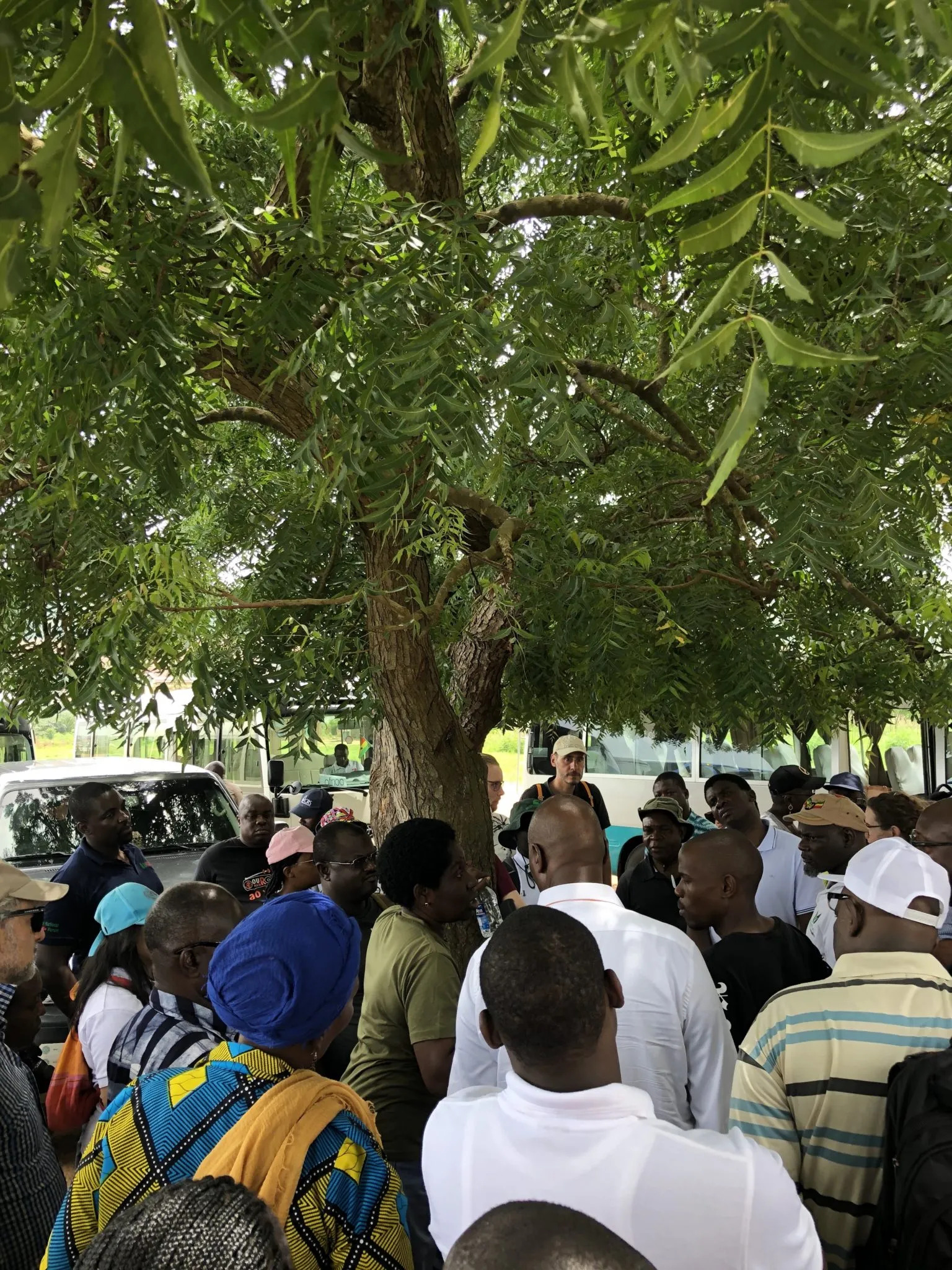 Participants on a field trip to a restoration site near Accra. Gabrielle Lipton, GLF
Young money
The meetings focused heavily on the involvement of African youth in restoration and how to attract and channel more money into restoration activities – two issues that are entirely intertwined.
Sixty percent of Africa's population is under the age of 25. Paving the way for this generational shift, five youth ambassadors leading restoration initiatives in their native AFR100 countries attended the meetings, including:
"Restoration should be fashionable for the young people. It should be profitable, should be accessible. Most importantly, it should be affordable," said Sokomani, whose tree-planting initiatives in poor townships around Cape Town are aimed to green the communities where he grew up. "Trees need to be professionally grown. We need the right species planted in the right biomass, delivered and planted in the right season."
Sokomani, an entrepreneur, said that one of his biggest frustrations is the amount of paperwork and labor that goes into legally running a restoration business in South Africa, which can take him days or weeks to finish. More grant money, he said, could help quicken the pace at which he can scale his business.
A misconception about investment in restoration is that it goes mainly to specific projects and companies, such as like Sokomani's. Yet many initiatives like his are facing challenges in bringing in finance from donors or private investors, which are often more easily attracted by commodity crops that feed easily into global supply chains. While the drought-resistant spekboom tree might survive well in the townships of South Africa, rubber or cocoa plantations often garner funds more quickly, especially as global conglomerates like Nestlé and Mars Inc. are looking to make their supply chains more sustainable.
Amath Pathe Sene, environment and climate lead for West and Central Africa at the United Nation's International Fund for Agricultural Development (IFAD), which invests in smallholder farmers in Africa, said that finance often doesn't flow to highly specified and socially-focused startups like Sokomani's. "If there is no funding, you won't do anything," said Sene. "That's the reality in Africa. Go where the money is and do the paperwork. No one will do it for you."
Chadia Mathurin of Farmerline, a startup uses artificial intelligence to send relevant mapping and geospatial data to farmers on the mobile phones and in their native languages, said that the enterprise has been able to attract more funding by aligning its work with the Sustainable Development Goals (SDGs) and communicating itself with SDG language, which is becoming increasingly familiar to the private sector.
To restore the 350 million hectares across the world committed by countries to the Bonn Challenge, an estimated USD 800 billion is needed, and the question remains: where will this money come from? Blended finance schemes, in which public funds are used to absorb financial risks from projects in order to attract larger amounts of private investment, was touted as one answer.
But Ravic Nijbroek, an interdisciplinary scientist with International Center for Tropical Agriculture (CIAT), suggested that only when companies and projects that degraded land jhave to pay for their impact will finance flow quickly enough. "With the World Bank – how much of its funding goes to projects going into degradation versus those that help?" he asked.
In the meantime, "African countries are putting resources, money into restoration," said Diakhite. "So if you thought we were waiting for only external money, this is not the case… because we see the economic benefits, for young people, for women with restoration."