Photo: Makueni County, Kenya has started its restoration journey. Credit: Peter Irungu/WRI
Prepared by World Resources Institute (WRI)
In the past six years, the African Forest Landscape Restoration Initiative (AFR100) has mobilized leaders across 31 countries to fight climate change, rural poverty, and the erosion of the continent's biodiversity.
To achieve those goals, governments have committed to restore nearly 128 million hectares of land, an area the size of Egypt, by growing trees in forests and on farms, restoring grasslands, and planting mangroves. Why? Restored landscapes would provide more food, water, energy, and jobs for millions of people living across Africa. The economic opportunity is too great to pass up: Each $1 invested in restoration can provide $7-$30 in economic benefits. And those healthy rural landscapes, a nature-based solution to climate change, would store gigatons of planet-warming carbon dioxide.
We know that AFR100 has made progress toward its goals, and now it's time to show it. The examples that follow are proof that people are restoring land across Africa. We hope that these stories from the ground – coupled in the coming months with advances in independent monitoring that can back these profiles with hard data – will prove that this Africa-led movement is more than commitments.
Now, we need to grow and replicate the work that is ongoing. It's time to step up ambition and unlock the hundreds of millions of dollars in public, private and blended finance committed to restoring degraded and deforested land. If we don't, Africa's restoration movement will never reach its goals.
1. From degraded land to a bamboo forest in Kenya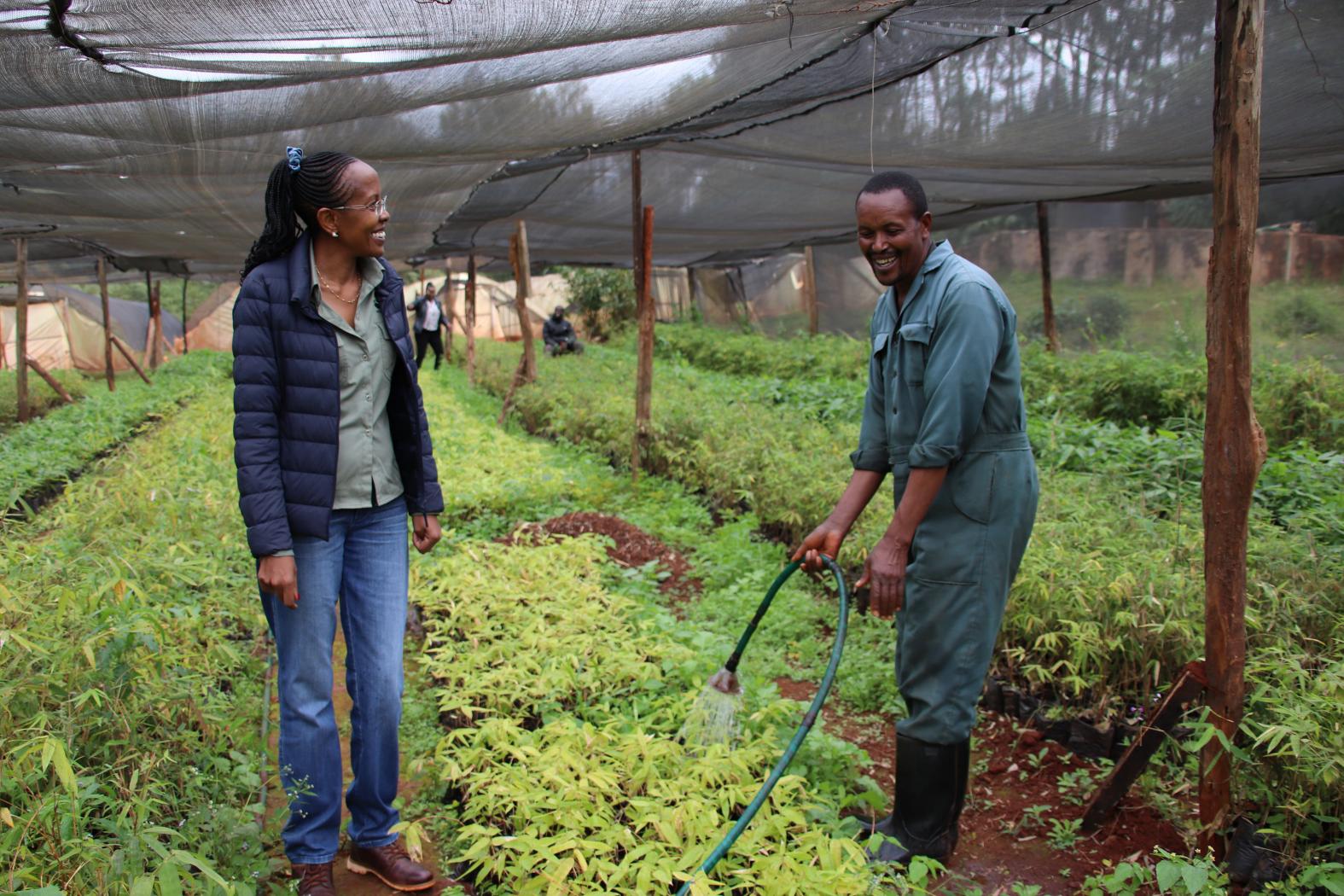 Caroline Kariuki co-founded GreenPot Enterprises to help farmer-investors plant bamboo and restore degraded land in Kenya. Credit: Will Anderson/WRI.
In rural Nyeri, Kenya a hilly and green landscape three hours away from bustling Nairobi, some farmers have stripped the hillsides of trees to plant more crops. Trees lock moisture in the soil and their roots prevent erosion, so as an unintended consequence, rivers dried up and soils washed away with severe flooding. At the same time, traditional crops like coffee are suffering from disease, and climate change has changed rainfall patterns, shifting planting cycles. The result is an increasingly precarious situation for farmers in Nyeri and throughout Africa.
GreenPot Enterprises is planting bamboo to restore soils, make those rivers flow again and bring cash to local farmers. The company, which has worked with WRI's Land Accelerator training program, works with 800 farmers to plant clustering bamboo (a non-invasive variety) across nearly 500 hectares. Twice a year, farmers selectively harvest part of the plant while leaving the rest intact. This keeps soil in place and carbon stored in the stalks. It's a great deal for farmers, too. GreenPot buys the bamboo and then sells it to processors to use in the energy, construction and textile industries. Plus, bamboo takes minimal effort to cultivate. Kariuki and Njeru are looking to raise $1 million to build a processing factory to expand to new markets and put more money into farmers' pockets. That is how the company could create more jobs and begin exporting finished products, like tables and flooring, to the international market.
2. Two local nurseries in South Africa and Uganda grow trees
At Sokomani's nursery, workers grow native plants like spekboom. Credit: Siyabulela Sokomani
Siyabulela "Siya" Sokomani, a young entrepreneur from South Africa, runs Nguni Nursery, a company that grows thousands of native saplings every year. By nurturing those trees, he is restoring degraded land and fighting climate change in his community's township in Cape Town. So far, he has grown more than 200,000 trees. In his role as an AFR100 Youth Ambassador, Sokomani is spreading the message of restoration entrepreneurship throughout the continent.
In Uganda, entrepreneur Ezra Masolaki has grown over 450,000 trees by working with local communities. Even during the COVID-19 crisis, Masolaki has grown 50,000 new trees in the Mt. Elgon landscape for watershed restoration. Both entrepreneurs have the technical knowledge and the land to scale up their work, but there are few investors that fund companies seeking finance between $20,000 and $200,000 in Africa. Investing in nursery owners, who play a key role in the seedling supply chain for restoration projects, will be critical to revitalizing entire landscapes.
3. Young people take the lead in Malawi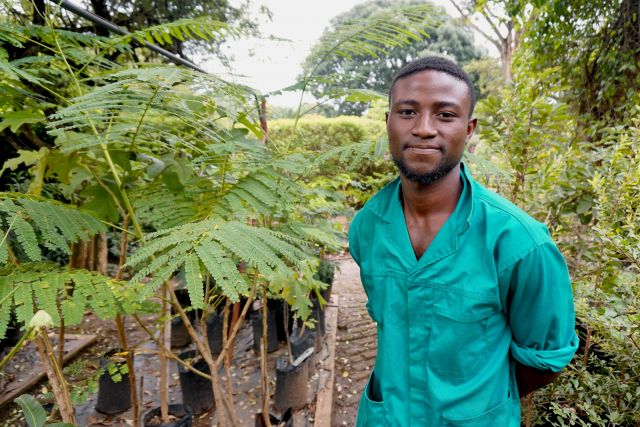 Malawian youth plant fruit trees and bamboo and learn how to manage forests. Credit: Sabin Ray/WRI
Nearly all – 96 percent – of Malawi's rapidly growing population depends on wood or charcoal for cooking. Meanwhile, land is continuously being cleared to grow crops, since nearly 80 percent of Malawians rely on agriculture for their livelihoods. The government is determined to combat this potentially disastrous trend by investing in long-term solutions for natural resource management, and has recently announced a USD $2 million (1.43 billion Malawian kwacha) program for forest restoration, equivalent to about 1.5 percent of the government's annual spending.
The Ministry of Natural Resources, Energy and Mining will use this substantial funding to implement the Malawi Youth Forest Restoration Program, recognizing that a sustainable future lies in the hands of the country's youth. The young people receive a daily wage for planting trees and, later on, the program will introduce bonuses based on how many trees survive and how much forest management improves.
The program is helping implement a first-of-its-kind National Forest Landscape Restoration Strategy, which provides clear targets and priority interventions. The impact is already tangible: In its first 18 months, more than 11,000 people from nearly 500 youth groups have been employed.The government is also measuring the program's progress in Rumphi District. WRI's Restoration Mapper (technique in development) and FAO's Collect Earth monitoring tools are helping identify tree growth on smallholder agricultural land, pasture, and forests.
4. Bringing back life to the land in Niger

Restored landscapes now thrive across Niger. Credit: Gray Tappan/USGS
In Niger over the past 25 years, farmers have grown trees on more than 5 million hectares of farmland in the past 25 years for the cost of less than $20 per hectare. Farmers protected and managed the natural regeneration of more than 200 million new trees without costly external assistance. These on-farm trees help increase crop yields, produce fodder for livestock, improve household energy supply and increase household income. But 5.5 million Nigeriens still live on severely degraded land. Empowering farmers to scale up their effort to re-green their own land can secure a prosperous, food-secure future for Niger's next generation.
People are at the center of the solution. Local restoration champions Sakina Mati and Ali Malam, for example, are teaching their neighbors how to regreen the land. Malam now travels from farm to farm to teach others farmer-managed natural regeneration techniques. Mati created a women's group in her community that meets to discuss re-greening. Through a radio program, they inspired other community members to manage trees so more people can benefit from land that is productive and resilient.
5. Growing billions of trees in Ethiopia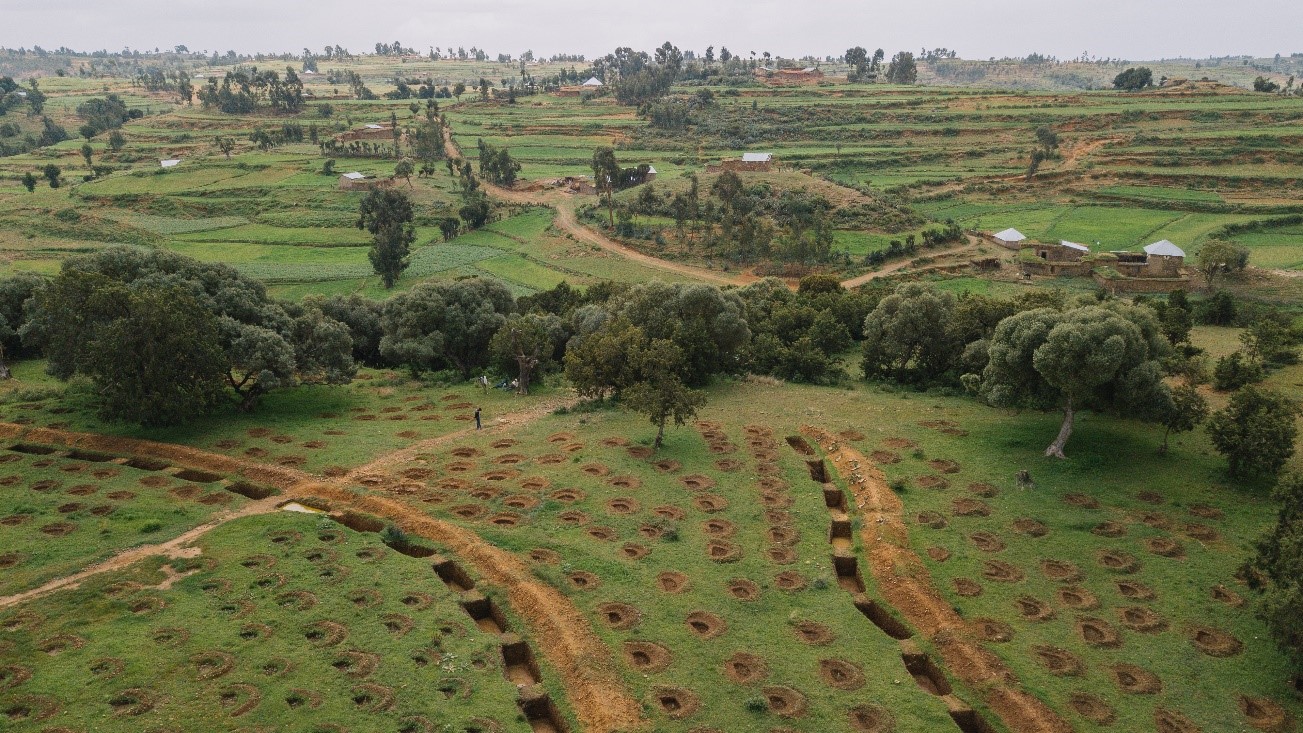 In Tigray, people have restored more than 1 million hectares of land. Credit: Aron Simeneh/WRI
Forest products, like honey and bamboo, that are grown by businesses and communities add more than 91 billion birr ($2.6 billion USD) to Ethiopia's GDP. It's clear that forests are crucial to the future of Ethiopia, but forest cover has fallen to 15.7% today from 40% two centuries ago. That devastation isn't irreversible. Local communities have grown millions of trees and bamboo stalks since the 1980s to restore their farms, forests, and pasture. For decades, the yearly soil and water conservation campaigns have also rewarded local people that care for the land.
Through the ambitious Green Legacy campaign, Prime Minister Abiy Ahmed (PhD) has led millions of people to plant 9 billion trees since 2019. This number will rise to 20 billion in the coming two years. Entrepreneurs are taking the charge here. Entrepreneurs are leading the charge. Apinec Agro-Industry in Kaffa produces and processes honey and exports to the US and Europe while supplying Ethiopian Airlines and local markets. Founder Wubishet Adugna Hailemariam's company employs 27 people and has trained hundreds of farmers to keep bees. Apinec is also distributing thousands of tree seedlings to farmers to expand the forests where the bees thrive. If companies sustainably managed trees across 1.3 million hectares of Ethiopia's forests, they could create 69 billion birr ($1.91 billion) in economic benefits, or 3 birr for every 1 invested.
6. Rwandan women transforming their farms with trees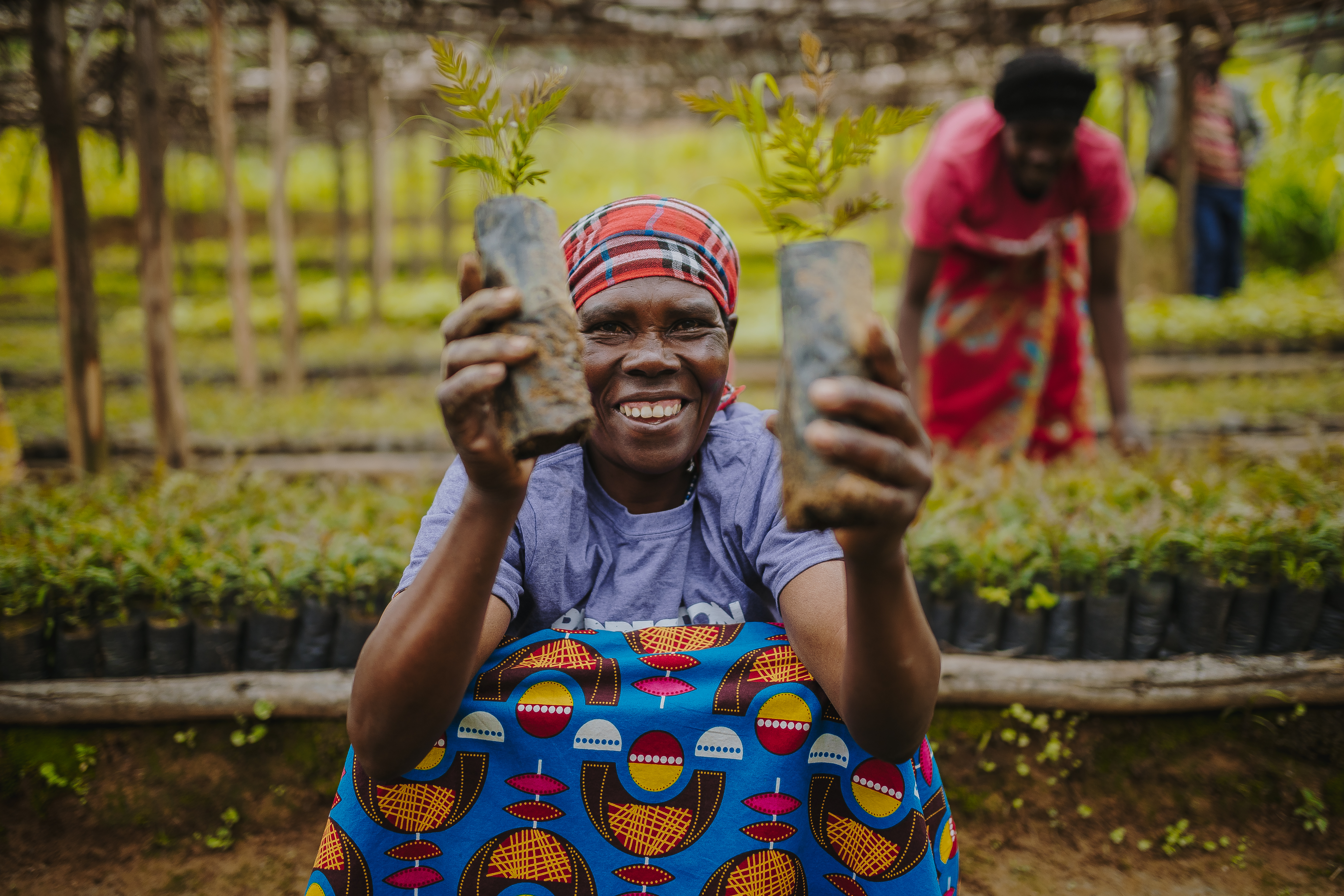 In Rwanda, women-led cooperatives are growing trees on their farms. Credit: Seraphin Nayituriki/WRI
The Albertine Rift Conservation Society (ARCOS) is a network of women-led cooperatives that restore farms and forests to transform Western Rwanda. Recently, with One Tree Planted, they grew 42,000 trees to enrich the local environment, prevent erosion, and create social and ecological benefits for the community. ARCOS offers a menu of seedling options from nearby farmer cooperative-run nurseries, from which farmers can select according to their needs.
The trees are now storing carbon and regenerating soil fertility. By fighting erosion, they will also reduce flooding in the nearby rivers and valleys. Last but not least, the trees and elephant grasses planted provide resources – firewood, bean poles and fodder for livestock – that local people used to take from the biodiverse Gishwati Mukura National Park. ARCOS is now actively looking for funding to grow their work. Their goal if they had enough investment? Plant 1 million new trees and revitalize 5,000 hectares of farms and hillsides every year by working with dozens of cooperatives.
7. Improving the water supply of 50 million Kenyans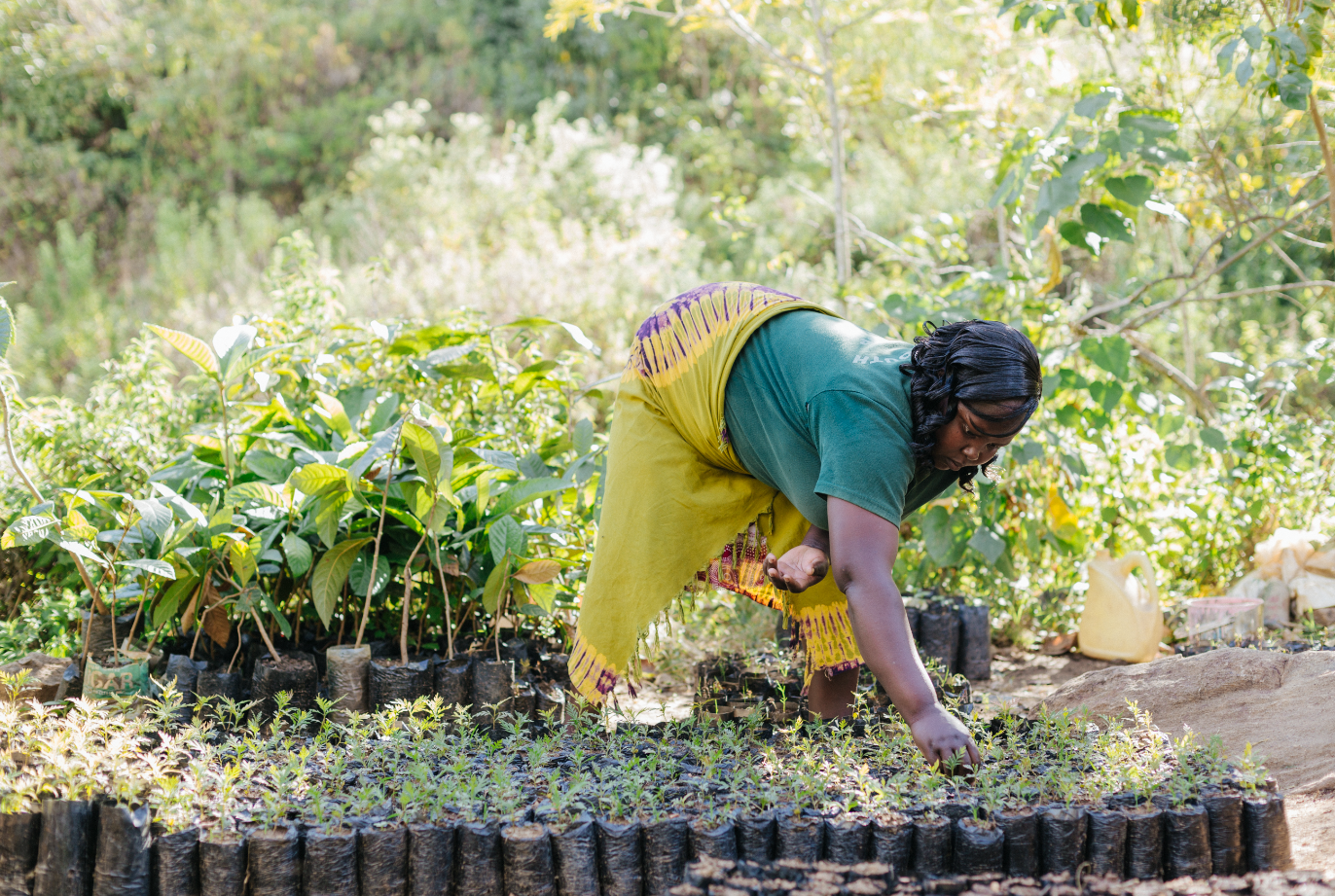 In Kenya's Makueni County, people are growing trees to transform the landscape. Credit: Peter Irungu/WRI
After decades of deforestation that endangered Kenya's water supply, the Kenya Water Towers Agency (KWTA) embarked on a campaign to protect and grow millions of trees. With support from WRI, KWTA led a working group of 17 institutions to develop a comprehensive process for monitoring their work.

The Integrated Water Tower Monitoring Framework highlights priority areas where tree-growing can lead to improved water supply, forest cover, and economic growth, as well as help communities adapt to climate change. In the Nzaui ecosystem of Makueni County alone, the services that these trees provide across more than 17,000 hectares is worth 6 billion KSH ($55 million) to local people.
Building off that solid research, KWTA and the Ministry of Environment are planting 10 million tree seedlings between 2019 and 2020 in priority areas. Work is under way. In Maasai Mau forest, 1.4 million new trees are rehabilitating more than 4,400 hectares. Local organizations are also leading the charge. This year, the Green Belt Movement, founded by Nobel Prize winner Wangari Maathai, has planted 300,000 trees within the Mt. Elgon water tower. More investment will be needed to meet the government's goal of reaching 10% forest cover by 2030.
Want to learn more? Sign up here for more information about Africa's restoration movement.